"Under Construction"

This article is under construction. You can help Midnight Club Wiki by editing it, or adding content to it. Please remove this template when finished.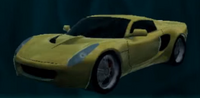 Description
Edit
The Alarde is the fourth car that the player will obtain whilst in Paris.
The Alarde is best on the races with cobblestone paths and tight turns.
To obtain this car you need to beat Stephane in Paris.
The Alarde has a striking resemblance to the Lotus Elise.
The Alarde has a very fast acceleration and it can reach a top speed of 159mph without nitrous, and 220mph with nitrous. This makes Alarde the fastest acceleration car in Paris, alongside Modo Prego. However, this also means that the Alarde is the slowest vehicle in Paris in terms of speed, alongside the Stadt. Oddly though, the engine in the menu has a loud roaring sound, hinting that the Alarde may have a conversion engine.
Ad blocker interference detected!
Wikia is a free-to-use site that makes money from advertising. We have a modified experience for viewers using ad blockers

Wikia is not accessible if you've made further modifications. Remove the custom ad blocker rule(s) and the page will load as expected.