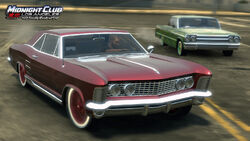 The Buick Riviera is a two-door lowrider in Midnight Club: Los Angeles. It can be purchased for $10,000 at the garage after downloading the South Central Premium Upgrade and achieving the Student Driver rank. The car is based on the real life Buick Riviera. A "Land Yacht," this Buick makes for a comfortable ride, tight cornering is not recommended.
Ad blocker interference detected!
Wikia is a free-to-use site that makes money from advertising. We have a modified experience for viewers using ad blockers

Wikia is not accessible if you've made further modifications. Remove the custom ad blocker rule(s) and the page will load as expected.