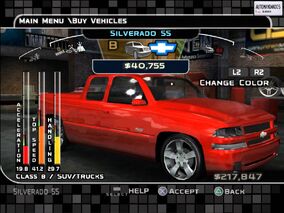 The
Chevrolet Silverado SS
is a midsize double-cab pickup truck available in
Midnight Club 3: DUB Edition
. It is one of the 2 available pickup trucks.
Description
Edit
This is the 2001 Chevrolet Silverado SS you unlock by beating Vito in Atlanta along with the other class B cars The Silverado is a fast and sizable Class B truck, good for use with Agro. The top speed is 175 mph with stock tuning and up to 200 mph with custom tuning.
Ad blocker interference detected!
Wikia is a free-to-use site that makes money from advertising. We have a modified experience for viewers using ad blockers

Wikia is not accessible if you've made further modifications. Remove the custom ad blocker rule(s) and the page will load as expected.