Collectibles are yellow barrels marked with the Rockstar Games logo in Midnight Club: Los Angeles.
Description
Edit
Collectibles are located throughout the original game map in Midnight Club Los Angeles, with ten in the Hills area, twenty in Hollywood, and fifteen each in the Beaches and Downtown areas. There are no Collectibles in South Central. Progress in finding the Collectibles can be tracked from the Statistics area of the pause menu.
The barrels are generally located in hidden areas - back alleys, inside glass-walled buildings, or nestled in with regular highway water barrels. Some are located in areas that can only be reached by jumping a vehicle from a ramp.
For every ten Collectibles the player acquires, a cheat is unlocked.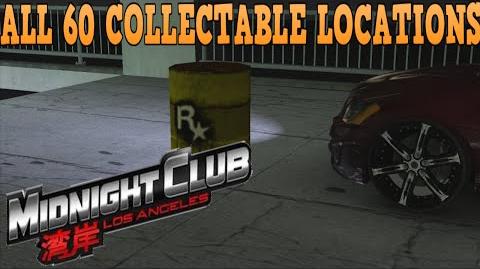 External Links
Edit
Ad blocker interference detected!
Wikia is a free-to-use site that makes money from advertising. We have a modified experience for viewers using ad blockers

Wikia is not accessible if you've made further modifications. Remove the custom ad blocker rule(s) and the page will load as expected.