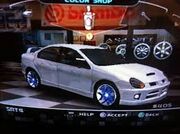 The
Dodge Neon
is a
car
that is available in
Midnight Club 3: DUB Edition
.
Description
Edit
The 2004 Dodge Neon SRT4 is one of the six vehicles the player can choose from at the start of Midnight Club 3. It can be purchased for $21,450.
Background
Edit
Power: SAE 215 hp (160 kW) (2003 model) SAE 230 hp (170 kW) (2004-2005 models)[5][6][7] In 2004, the SRT-4 received a power increase, with larger fuel injectors and a recalibrated engine computer.[8] Manufacturers specifications when the SRT-4 was released was 230 hp (170 kW). However, several independent tests have produced results indicating that the SRT-4 produces more power than the manufacturer claims. The estimated flywheel power is to be around 265 hp (198 kW).[9][10][11][12]
Torque: 245 lb·ft (332 N·m) @ 3200-4200 rpm (2003 model) 250 lb·ft (339 N·m) @ 2400-4400 rpm (2004-2005 models) 0-60 mph (97 km/h) time: 5.3 seconds[13] Rev Limiter/Redline: 6240 ¼ mile (400 m) time: 13.8 seconds ¼ mile speed: 103 mph (166 km/h) Top speed: Car and Driver magazine achieved a maximum speed of 153 mph (246 km/h).[13]
Braking consists of an ABS system with 11.0 in (280 mm) F vented/ 10.6 in (270 mm) R discs and single piston calipers (57 mm front/36 mm rear).
17 x 6 inch cast aluminum wheels with a offset of 43mm were coupled with 205/50/17 Michelin Pilot Sport tires helped put the power to the ground on 2003 models, with 2004 and 2005 models getting BF Goodrich KDW2 tires. Even wider 225/45/16 BF Goodrich KDW2 tires on lightweight BBS racing wheels (40 mm offset) were offered on the ACR model in 2005. The standard 17 in (43 cm) wheels were purposely designed to look like aftermarket wheels, and the unique spoke pattern allowed for better airflow to the brakes. The design showed much similarity to the TSW VX1 wheels found on the 2001 concept supercharged Neon S-R/T.
| Stock Prize| | Prize| | Acceleration| | Top speed| | Handling |
| --- | --- | --- | --- | --- |
| 21,450 | No | 14.7 | 35.5 | 39.2 |