Easter Eggs are hidden references, inside jokes, or similar material found within the Midnight Club series.
Midnight Club: Street Racing
Edit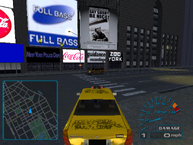 Midnight Club 2
Edit
There's also a strange bug in the game: Sound effects from different places on the maps of LA, Paris, and Tokyo can get stuck playing constantly until you quit the game. Usually a sound of drums and a crowd cheering can be heard, and will only get louder and louder until you quit the game. Those are possibly the sounds that originally comes from certain nightclubs in Paris.
Midnight Club 3: DUB Edition
Edit
Midnight Club Los Angeles
Edit
Ad blocker interference detected!
Wikia is a free-to-use site that makes money from advertising. We have a modified experience for viewers using ad blockers

Wikia is not accessible if you've made further modifications. Remove the custom ad blocker rule(s) and the page will load as expected.