Ad blocker interference detected!
Wikia is a free-to-use site that makes money from advertising. We have a modified experience for viewers using ad blockers

Wikia is not accessible if you've made further modifications. Remove the custom ad blocker rule(s) and the page will load as expected.
Farid is a character in Midnight Club II.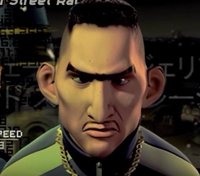 Career Mode
Edit
Farid is the sixth challenger the player meets in the city of Paris. He is quickly revealed to be a fugitive on run from Algeria, he insists that you race in the catacombs to keep a low profile. He also comes up with a cunning plan to land the player in trouble with the inspector by giving the player his car filled with evidence in order to distract attention away from himself. He is usually found circling the heights of Montmartre. By flashing your headlights, he will lead you to the entrance of a catacomb just west of the border between Montmartre and the Right Bank.
In Farids first race, Catacomb Criminal, you go head-to-head versus Farid. There are two prominent obstacles such as: the Ambulance speeding across the road near the gas station entrance and an idle Mail Delivery Van right next to the church. The race ends once you reach the entrance to one of the main catacombs, directly across from the Louvre.
In the second race, named Lose the Cops, you face Farid head-to-head once more. However, since there is a strong police presence, the race is called off. Your task is to meet Farid by the stairwell leading to the Sacre Coeur. It is advised that you turn around and reach the gas station via the catacombs. Once you have reached that destination, proceed until you encounter the other gas station. Head up the ramp, and enter the boundaries in that fashion. There should be no cops pursuing you by now. Upon completing these two races, Farid will give you his Stadt (Renault Clio) without hesitation.
In the third race, named Extortion, you face the likes of Owen instead of Farid. As obstacles are nearly non-existent, all you have to do is be cautious when you enter the series of short alleyways, as a few parked cars are to be seen. The race ends inside of a plaza, near the church. Upon completion of this race, Owen gives you his Victory (Aston Martin V8 Vanquish).
He's the ugliest character in the game.
Both Farid and Moses have the same haircut.
His Stadt is slower than the Blog's Boost
Farid and Hector are the only characters to have Lose the Cops races.
Farid does not have a crew like everyone else does due to the law chasing him more than others. Yet he still races you risking the loss of the "vital information" he stole.
It's unknown whether you kept the "vital information" in Farids car or gave it to him.
Farid is from Algeria
Related Content
Edit