First Impressions

Game

Midnight Club: Los Angeles

For

Booke

Location

Sunset, Los Angeles

Reward

Any of the first three optional cars (Money)

Unlocks

Trevor race
First Impressions is the first mission of Midnight Club: Los Angeles. It introduces the game's first race and it's given by Booke, the city champ of Los Angeles.
Description
Edit
The player arrives in L.A. looking for a racing career, he meets up with Booke, who prepares the player a first race to get started.
The introduction presents the player the casual of driving cars. The introduction also presents the player. Not much is known about him in the beginning of the storyline though.
Plot and Walkthrough
Edit
Opening scene
Edit
The player arrives in Los Angeles just for racing cars, since he is very interested in the business. A contact of his called Tony gives the player Booke's number to hook him up for his first step in the Midnight Club career, as he is well-conected and knows all the races happening in town. They agree to meet up in a fast food restaurant called Limited Express Carney's in sunset. He tells him to keep his head low for a while before they meet, because the police was all over them. The player arrives to the restaurant and he is given to chose one of the three vehicles in the restaurant parking lot. After buying one of the cars, Booke, along with Trevor and Nikolai come and meet the player. Booke asks the player what is he here for, which the player responds; racing cars man. Afterwards, Booke tells him to race Henry over in the Sunset Strip.
The player meets Henry for a race, he drives a two-tone silver and black 1975 Datsun 280Z. The race type is ordered, its a 14 checkpoint race called Wellcome to Hollywood. The player races Herny from Rexford Drive in Sunset Boulevard to Wilcox drive in Hollywood Boulevard. The player is awarded with $200 and 100 REP. points.
Video walkthrough
Edit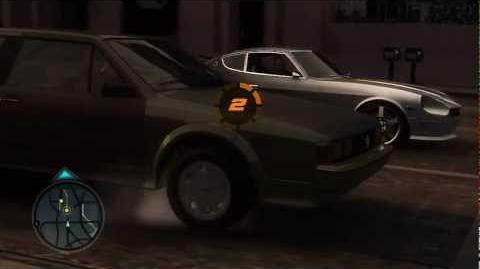 In the introduction video, you can see the beta version of Booke and Nikolai.
The Mobile Sidekick (the Player's comunication device used in the game) can be seen in an advertisement in the introduction. Its located in the bus stop adverts where he drops off in Carney's.
The player starts the game with $
The game's first achievement is The Basics.
Ad blocker interference detected!
Wikia is a free-to-use site that makes money from advertising. We have a modified experience for viewers using ad blockers

Wikia is not accessible if you've made further modifications. Remove the custom ad blocker rule(s) and the page will load as expected.