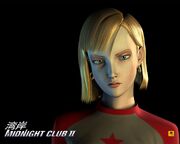 Haley

Appearances

Gender

Female

Locations

Vehicles

Saikou (Toyota Supra)

Business

Street Racer

Voiced by

Alissa Dean
Haley is a character in Midnight Club II.
Background
Edit
Haley is a female challenger found in Asakusa Temple, Tokyo although originally from the US. She has short blond hair and wears a red and gray t-shirt. She is a deeply insecure racer and a borderline feminist shown by her negative attitude and comments towards the player and males in general. Winning her races will reward you with the Saikou.
Races/Missions
Edit
Her first race is named "Enigma", which is the only race in the game without traffic and the only unordered race in Tokyo.
Her second race is called "Intuition". Along with Haley you will race with Misha, Phil, Janna, Auerilo, Miliani and Darci.
-Enigma: "It's funny when these guys get smoked by a girl, all that macho crap."
"Hey man! You're all show and no go, get off the track!"
-Intuition: "Adrenaline is just pumpin' through me. I swear."
"You jumped me, moron! Let's go again. Double or nothing!"
-Defeated: "I still wanna run the imports. Racing is what I'm about"
"I'm just trying to have a good time, and you, idiot, you just wanna ruin it!"
Her vehicle, the "Saikou" is essentially a Toyota Supra MK IV.
Her vehicles wheels are sponsored by Japanese wheel brand Enkei.
Haley is the only female racer of Tokyo.
She's one of the youngest racers in Midnight Club 2, appearing to be in her early 20s. It is possible that she is a student abroad.
She acts like a typical feminist and is unable to accept her defeat with grace. Her inner thoughts reveal that she feels threathened for being a woman in a male-dominated sport, showing deep insecurity.
Like Shing, she gets furious and starts to whine the player to quit.
Aside from being the only female racer in Japan, Haley is also the only Non-Japanese racer, (excluding Savo, who is Russian) in Tokyo. She is American.
Related Content
Edit