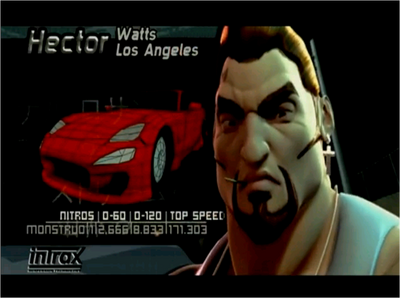 Career Mode
Edit
Hector is the sixth challenger you will greet in Los Angeles. He is usually found cruising the streets of the Industral district. By flashing your high beams, he will lead you to the northwest portion of the Industrial district, right next to the Plastics Plants.
Your first race, named Lose the Cops, is a head-to-head race versus Hector. However, since there is a strong police presence, the race is called off. This race introduces you to the Lose the Cops style of race. Your task is to simply meet Hector at the old warehouse, located at the southern portion of the Watts district, without bringing any police with you. To effectively lose the police, it is recommended that you follow these next instructions: When you are given the signal to go, turn immediately to the right and proceed down the Los Angeles river. Go through the fenced off gates until you locate a tunnel (the one that links the river with the eastern section of downtown Los Angeles). Proceed through this tunnel and make an immediate left. If you maintain a reasonable speed, you will shake the police presence fairly easily. Enter the other side of the warehouse through a ramp, cross the middle portion of the building, and descend the other ramp, where the finish line will be located.
The second race, which is called Block Party, has you competing against six other racers. The only obstacle in this race is the downpour of rain, which may cause unnessecary oversteering. It is the second unordered race in the entire game, the first being Triple Threat. The race ends at the intersection which borders downtown with a short expressway leading to the Industrial district.
The third race appropriately named Slip-Stream Chicane, features you versus six other racers. Unlike other races, there are two starting points instead of one. There are three prominent obstacle you must face: The first being an early police presence, the second being two parked vehicles in a road side motel, and the third being a semi-truck (which is carrying a supply of gas). The race ends once you reach the left side of the warehouse mentioned in the first race.
Upon completion, Hector will hand you his car, the Monstruo (Mazda RX-7).
Hector is the older brother of Maria, and is the only official driver who is referenced before he appears as a challenger (Diego doesn't count as he is a minor character in Angel's race).
Hector drives the Monstruo, clearly based on the Mazda RX-7.
He is notable for his habit of moving his toothpick in his mouth.
He makes a direct reference to the famous James Dean, Rebel Without A Cause.