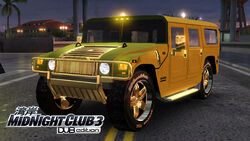 | Stock Prize| 110,000 | Prize| N/A | Acceleration| | Top speed| | Handling |
| --- | --- | --- | --- | --- |
| 117,508 | No | 9 | 20 | 19.2 |
The Hummer H1 is a SUV Heavy vehicle, which appears in Midnight Club 3: DUB Edition, under "D" class vehicles. This car has a fast recovery from crashes.
Performance
Edit
The Hummer H1 is very durable and can survive several crashes.
Acquisition
Edit
Despite this vehicle being unlocked from the start of the game, the player will have to complete several races to obtain this SUV.
Ad blocker interference detected!
Wikia is a free-to-use site that makes money from advertising. We have a modified experience for viewers using ad blockers

Wikia is not accessible if you've made further modifications. Remove the custom ad blocker rule(s) and the page will load as expected.