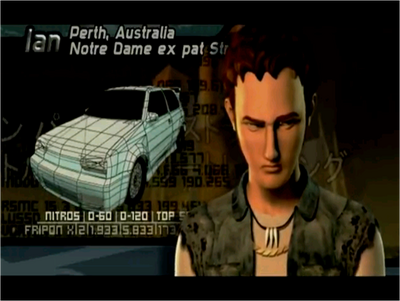 Ian is an Austrailian street racer found in Paris in Midnight Club II.
He drives the Fripon X (Volkswagen Golf Mk3) and later the Monsoni (Ducati 996)
Description
Edit
A native of Perth, Austrailia, Ian wanted to show his friends that he was more than capable at something. After beating Ian, he says that he is going to take a break from the racing scene and concentrate on finding a nice Sheila (common Australian slang for a pretty girl) Ian is also very stereotypically Australian, he wears clothes similar to that of Paul Hogan in "Crocodile Dundee" and uses the word "mate" at the end of many of his sentences.
He is the only racer who races with two vehicles in which the player can win. Primo races with two cars, but only one can be obtained from him.
He is also the only character who can be seen with two different outfits; he wears racing overalls when driving his motorcycle.
He is one of the three people (Mauro (when racing Gina) and Zen are the other ones) that rides a motorcycle.
Related Content
Edit