The
Kawasaki Ninja
is a sports bike available in
Midnight Club 3: DUB Edition
and
Midnight Club: Los Angeles
.
Midnight Club 3
Edit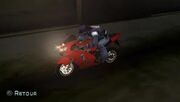 The Kawasaki Ninja can be unlocked in this game after completing a series of sports bike races. The Ninja is the fastest normal sports bike in the game (excluding the Kawasaki Police 1000, which is classed as a police vehicle). It can rival with the Police 1000 in terms of top speed and acceleration. Its handling is also great.
Midnight Club Los Angeles
Edit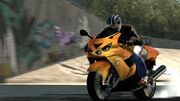 The 2007 Kawasaki Ninja ZX-14 is an A-class Group 4 Sports Bike. It has the overall best specs of any vehicle in the game, with nearly maxed out acceleration , top speed of 260 upgraded of 282, and handling. NOTE:In Midnight Club 2, the Dinka Nousagi is based off from Kawasaki Ninja.
Acquisition
Edit
The bike can be purchased from the garage in Midnight Club: Los Angeles for $17,000 after receiving the Champion rank. In Midnight Club 3: DUB Edition, the bike is unlocked after winning a series of sports bike races.
Related Content
Edit