The Lusso XT is the second car the player wins whilst in Tokyo in Midnight Club II. It is one of the fastest cars in the game in terms of top speed.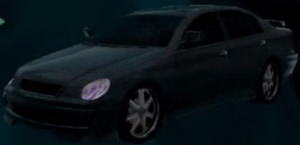 Description
Edit
Luxury sedan. Excellent top speed capabilities. Little reaction from collisions.
Being the only car to be able to reach 249 mph in career (with nitrous). With the second highest mass in the whole game and responsive handling, it is brutal in straightaways and can even keep up or even beat the lighter, wilder jet-powered SLF450X on freeways. However, it is only limited to freeways, since a very large steering circle, very poor low-end acceleration and being a fragile car means that it is a poor choice in any other competition. The handling weakness can be remedied using the handbrake like the Torque JX, but its strong grip and responsiveness means it may spin out easily.
How to Unlock
Edit
Defeat Ichiro after the first race given by Shing.
Top Speed
Edit
Maximum speed without nitrous is 226mph.
Resemblance
Edit
The Lusso XT resembles a Lexus GS 300.
Use this car against the World Champion for a challenge.
Also use it during races in the rain because of the strong capabilities.
When you race Ichiro, make sure you are in front of his car before he gets to a straightaway because the Lusso XT cannot be caught once it reaches its top speed. Avoid blocking him as it is likely he will only knock you away.
The word Lusso means Luxury in Italian.
Its the second heaviest car in the game.
This car has been modified heavily due to it's top speed being 226 mph
Ad blocker interference detected!
Wikia is a free-to-use site that makes money from advertising. We have a modified experience for viewers using ad blockers

Wikia is not accessible if you've made further modifications. Remove the custom ad blocker rule(s) and the page will load as expected.