Midnight Club: Street Racing

Developer(s)

Rebellion Developments

Publisher(s)

Destination Software

Series

Midnight Club

Engine

Angel Game Engine

Platform(s)

Game Boy Advance

Release date(s)

NA November 14, 2001 PAL February 8, 2002

Genre(s)

Racing

Mode(s)

Single player

Distribution

Cartridge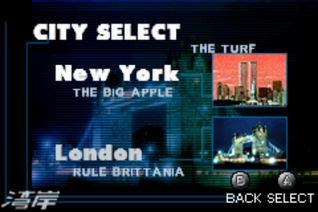 Midnight Club: Street Racing(GBA)
is a racing arcade game developed by Rebellion Developments and published by Destination Software. Midnight Club: Street Racing(GBA) brings you a top-down view street racing action of high speed driving and adventure to the Game Boy Advance. The concept behind this game derives from the illegal races of real-world Midnight Clubs.The core gameplay consists of races of high-speed maneuvering through completely open city streets. Live life in the insane lane, escape the law and accumulate an arsenal of vehicles.
Objective
Edit
A mysterious group of urban street racers known as the Midnight Club race for pride, power, and glory in sleekly customised, enhanced sports cars. As a regular New York City cab driver, the player learns about this secret club and decides to join.
The player begins with his relatively unmodified and slow vehicle, a taxi. Through a series of races, each with different goals, they defeat other racers and win faster and more expensive vehicles.
Vehicles
Edit
(More vehicles to be added for the GBA version soon)
Players race through the cities of New York and London. By modern standards, they are significantly less detailed than their real life counterparts, but were highly detailed and large for the game at the time. Both cities are designed for the racing scenario. Each city contains landmarks from their respective real life counterparts. New York includes such landmarks as Times Square, the Empire State Building, the now-destroyed World Trade Center, and Central Park. Some of London's visible landmarks include Trafalgar Square, Big Ben, and Tower Bridge.
Unlike the PlayStation 2 version of the game where the game saves automatically, the Game Boy Advance version does not allow players to save their progress. Instead, each time the player wins a race in Career Mode, the game will give the player a 4-digit passcode. This will allow players to continue the game if they choose to quit the Career Mode and play later. However, if the player does not remember the passcode, he or she will have to start all over from the start of the game. Players can write down the passcode.
Due to the limitation on the Game Boy Advance version, almost all the buildings in the game looks the same. However, few landmarks can be recognizable such as the Madison Square Garden.
Ad blocker interference detected!
Wikia is a free-to-use site that makes money from advertising. We have a modified experience for viewers using ad blockers

Wikia is not accessible if you've made further modifications. Remove the custom ad blocker rule(s) and the page will load as expected.