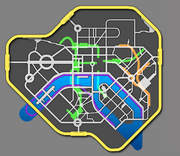 Paris, France is a city in Midnight Club II. It is the second city the player visits in career mode.
None of the drivers in Paris are Parisian: Blog, Farid, Ian, Primo and Stephane are all foreigners, while Julie & Jewel (from Toulon) and Parfait (from Normandy) are from France, but moved to Paris.
Also, all French racers you encounter are female, while all male racers are foreigners.
Paris is the city with most foreign drivers, totalling 5 of them, unlike Los Angeles (where all the racers are native to L.A) and Tokyo (where, excluding Savo, features a single foreigner; Haley).
Description
Edit
Like its real-life version, Paris features many landmarks found in the real Paris such as Arc de Triomphe and the Eiffel Tower. 
Blog, Primo, Julie & Jewel, Stephane, Farid, Owen, Ian, Parfait, Savo, (non-main)