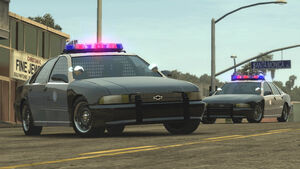 The Police Car pack contains multiple variants of a 1996 Chevrolet Impala and a 2006 Dodge Charger
The '96 Impala has two variants; the regular LAPD cruiser and an upgraded California Highway Patrol variant. The CHP version is upgraded in performance.
The '06 Charger has 3 variants; a regular LAPD version, a Border Patrol version, and a CHP version.
The LAPD version comes stock, the BP version is slightly upgraded to level two, and the CHP version is fully upgraded.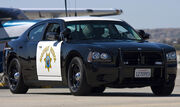 When the player purchases a patrol car the player has the option of upgrading the vehicle and has immunity with the AI police cars, meaning the player can do whatever he or she wants.
Upgrades are limited to performance only.
Ad blocker interference detected!
Wikia is a free-to-use site that makes money from advertising. We have a modified experience for viewers using ad blockers

Wikia is not accessible if you've made further modifications. Remove the custom ad blocker rule(s) and the page will load as expected.