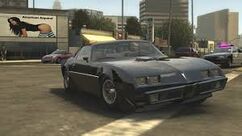 The Pontiac Firebird (known in-game as the 1979 Pontiac Firebird) is a vehicle in Midnight Club: Los Angeles. 
Description
Edit
This car is based on the second generation Pontiac Firebird. The '79 Firebird is one of the last muscle cars of it's era, with the '80 model year bringing sharp drops in power and performance.
Acquisition
Edit
The car is unlocked for free by beating Chung Hee in the race "Racin' for Pinks". It can also be bought for $16,000 to buy from the garage after achieving the Student Driver rank (2000 rp). 
İt is the only vehicle with its own vinyl package in game.
An attempt to make it into a "Bandit Edition" from the film series "Smokey and The Bandit" would be incorrect, as the trilogy used a '77, '80, and '83, respectively.
The color, when bought from the showroom, is similar to the Pontiac factory color "Solar Gold"
Ad blocker interference detected!
Wikia is a free-to-use site that makes money from advertising. We have a modified experience for viewers using ad blockers

Wikia is not accessible if you've made further modifications. Remove the custom ad blocker rule(s) and the page will load as expected.