Player

Appearances

Midnight Club: Los Angeles

Gender

Male

Home

Los Angeles

Vehicles

Players Choice

Business

Street Racing

Voiced by

Matthew Metzger
 Player is the playable character and protagonist of Midnight Club: Los Angeles and Midnight Club: Los Angeles Remix.
Background
Edit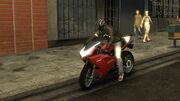 The game does not provide a real name for the protagonist, only referring to him as "Player". Before the game, he lived in the eastern United States. As the game begins, he has recently arrived in Los Angeles, looking for a street racing challenge. His introduction to the street racing scene comes from Booke, who hooks him up with his first car and his first race.
After winning a couple of races, Player is introduced to Karol, the owner of Hollywood Auto. This becomes Player's home base in the early part of the game, before other garages open up.
After Player has proven his skills around town and built up a strong reputation, he is finally able to challenge Booke for the title of City Champ. Booke requires him to first beat the regional champs of the Beaches, Hills, and Downtown areas before agreeing to the race.
Once Player is crowned City Champ, he then has the opportunity to become champ of each of the vehicle classes - tuner, luxury, muscle, exotic, and motorcycle. He also receives an offer from Karol to become a partner in his garages for the tidy sum of one million dollars.
In some cutscenes, the player is called Marcus.
Related Content
Edit