Savo is a character in Midnight Club II.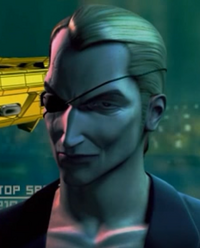 Background
Edit
Savo is the World Champion and the final challenger in Midnight Club II. He has been a World Champion for years. Since no one was able to beat him, Savo yearns to be beaten by a challenger. A person of Slavic descent, he is a very tough man and has apparently died twice already, possibly due to being in the military and sustaining multiple injuries as shown by his eyepatch and scars.
Savo gives six races to the player to prove that they are World Champion material, two in each city. After the player wins the championship, Savo rewards them with his car, the Veloci (similar to a Saleen S7). He also seems relieved that he has been freed of the burden of being the world champion street racer.
He has a tendency to call the player "asswipe", occasionally makes fun of the player, but sometimes encourages them.
Savo is possibly of Russian descent, as he speaks with a Russian accent, and sometimes does the countdown in Russian during his first race in Tokyo.
Savo is voiced by Alex Kroll (Vitali Baganov), who is also the voice of Ray Bulgarin and also a random pedestrian in Grand Theft Auto IV.
Savo is one of the characters in Midnight Club 2 who uses profanities, along with Maria.
The word asswipe is a reference to one of the infamous Beavis And Butthead lines.
Savo is the second oldest character before Makoto, seemingly around his 40s.
Both Savo and Dice are the only characters in the game which their vehicle colors are incorrect. In cutscenes, the Veloci appears golden. But when racing, it appears orange.
Related Content
Edit