Shing is a character in Midnight Club II.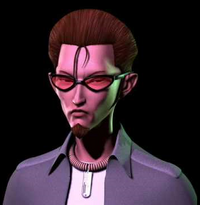 Background
Edit
Shing is the second challenger the player faces in Tokyo.
The first race is called Red Herring. This race is a Time Trial.
The second race is Ichiro's Challenge. This race you will face the likes of Ichiro who owns the Lusso XT (Lexus GS300)
The third race is called The Real Deal, which is the only race where the player races Shing.
After you beat shing he has no choice but to give you the keys to his RSMC 15 (Nissan 350 Z)
Like Angel, he tends to brag about his money, and is shown to be a spoiled rich kid.
He gets annoyed if your beating his races and at Ichiro's Challange, he whines you to go home.
Ad blocker interference detected!
Wikia is a free-to-use site that makes money from advertising. We have a modified experience for viewers using ad blockers

Wikia is not accessible if you've made further modifications. Remove the custom ad blocker rule(s) and the page will load as expected.