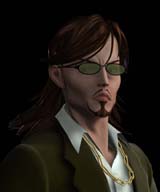 Stephane is a character in Midnight Club II.
Career Mode
Edit
Stephane is the fourth challenger that will greet whilst in Paris. He is usually found cruising near the building opposite of the Eiffel Tower, only notable for its large fountain. By flashing the headlights, he will lead the player to a freeway exit ramp, near the Arc de Triomphe.
In Stephane's first race, entitled Roundabout Run, the player faces the likes of him and five other racers in an unordered race. The single obstacle that the player may want to avoid would be the speeding Ambulance located near the Montmartre district, heading south of the roundabout. The police is also prominent in this race. The race ends at the bottom of the large stairwell belonging to the Sacre Coeur Cathedral.
In Stephane's second and final race, titled Over and Under, the player faces Stephane and five other racers. The obstacles on this course are numerous and can easily thwart the entire race. The first obstacle that comes into view is the futuristic train-like structure that travels along the tracks to the left of the Sacre Coeur. The second obstacle involves a mid-sized sedan making a sharp turn down one of the steep pathways. The next obstacle would be the beginning of a errant police presence, which includes one pursuing squad car and a few stationary cars acting as roadblocks. The following hazard occurs much later, near the alleyway across the exit from the underground tunnel, where a pursuing police car is seen. The race ends on the freeway, where access is permitted though a brief alleyway leading off to a gas station.
With much regret and despair, Stephane then forks over his Alarde.
In both races, it's best if the player follows Stephane and nitro boosts him at the final stretch.
Stephane says a lot of comments of his extreme dislike of America. He also mocks the player for it.
He is a stereotypical male model persona, similiar to Zoolander, and apparently a womanizer.
In PS2 release, Stephane's nationality is French, while in PC release, his nationality is switched to Italian, and his info is the same as Primo's.
The songs that play in his races are "Extra Dry" and "Turbo", both by Thomas Bangalter. "Extra Dry" plays when following Stephane to the first race, in the cutscenes (PS2 release only) and in the first race, Roundabout Run. "Turbo" plays during his second race, Over and Under.
In the PC and Xbox releases of the game, "Jump Jet" by Alpinestars plays during Stephane's cutscenes.