Vehicle Modification
is a feature of the
Midnight Club
games that first appeared in
Midnight Club 3: DUB Edition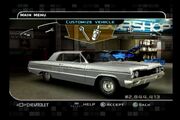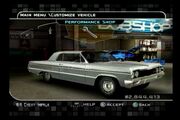 .
The feature also appeared in
Midnight Club: Los Angeles
.
The Vehicle Modification feature allows players to customize their cars, trucks, and motorcycles for performance or cosmetics. Customizing is performed at the Garage located in each city: 619 Customs (San Diego), Apone Team Racing (Atlanta), Vince's (Detroit), and Speedway (Tokyo). Different sections of the Modification feature correspond to different aspects of customization.
In Midnight Club 3: DUB Edition, the sections are as follows:
The Performance Shop allows players to upgrade the vehicle's performance with engine, drivetrain, suspension, and brake upgrades as well as new tires.
The Detail Shop allows players to change the license plate and add badges, decals, and vinyl graphics.
The Body Shop allows players to alter the bodywork of their vehicles with body kits, spoilers, and rims.
The Color Shop allows players to change the color of their vehicles, add neon lights, tint the windows, change the color of the HUD, and plate the trim, exhaust, and rims with various colored metals.
Different vehicle types have different customization options. For example, Tuners can be upgraded with chrome or carbon taillights while Classic/Muscle cars cannot. Meanwhile, Classic/Muscle cars can be upgraded with wheelie bars while other types cannot.
Sometimes, the options are limited within the vehicle types themselves. For example, some SUVs can be upgraded with Brush Guards and One-Shot Kits while others cannot. Also, certain cars do not have body upgrades (aside from rims) while others in that vehicle type do.
Ad blocker interference detected!
Wikia is a free-to-use site that makes money from advertising. We have a modified experience for viewers using ad blockers

Wikia is not accessible if you've made further modifications. Remove the custom ad blocker rule(s) and the page will load as expected.